What are the key stages which facilitate the conversion of ammonia to urea?
Ammonia is produced when unwanted amino acids are being broken down in the body. It is a toxic substance, and if allowed to accumulate in blood, as it does for example during serious liver disease, it can damage the brain and cause coma. Usually, the ammonia is converted into urea in the liver and the urea transported through the blood to the kidneys, where it is excreted in the urine. On standing a specimen of urine gives off an ammoniacal smell. This is because in the presence of oxygen urea is converted back to ammonia. Urea is a relatively inert substance compared with ammonia. In renal failure an increased amount of urea is excreted via the sweat glands and forms crystals on the skin, giving a frosted appearance.
During the conversion of ammonia into urea, two molecules of ammonia and one molecule of carbon dioxide combine to form one molecule of urea and one of water.
<![if !vml]>

<![endif]>
Assisting this process there is a cyclical conversion of ornithine into citrulline, arginine, and then back to ornithine again, as shown in the following diagram.
<![if !vml]>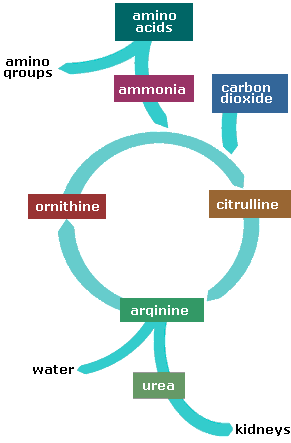 <![endif]>

What foods increase metabolism?
Our metabolism is controlled by several factors. For example, circulating hormones (signalling molecules) such as thyroid hormone and growth hormone set the general level of metabolism throughout the body. Then, our rate of physical activity will affect metabolism - if we are very active, muscle tissue and support systems such as the cardiovascular and respiratory systems will be working harder, and therefore metabolising more rapidly. If foods are to increase metabolism, they would presumably have to mimic either regulatory signals or the conditions that arise during exercise.
We know that certain types of food do indeed give rise to molecules during digestion which can enter the body and may produce effects similar to natural signalling molecules. For example, when food proteins such as wheat gluten and milk casein are digested, small peptides with opioid properties are produced and absorbed. Collectively, they are called exorphins, to distinguish them from the endorphins produced normally within the body. Opioids are detected by specialised receptors in brain tissue, and influence brain activity. (Morphine and heroin are also opioids.) Whether or not the absorbed peptides have a significant effect on bodily activities has still to be determined, but the possibility is there. (For reviews of exorphin research, see Gardner, 1985; Wadley, 1994).
However, in the research literature we have not yet found any evidence for foods that directly stimulate metabolism after they have been digested and absorbed, either by mimicing regulatory signals or the exercise state. However, we feel that this is still an open question and we shall welcome any observations that relate to this point.
On a slightly different tack, there are foods that we find quite difficult to digest, and claims have been made that some require more energy expenditure by the body during digestion than is actually gained by absorption of the products. If this is so, then such foods could be considered as stimulating metabolism. Catabolic diets incorporating these foods have been proposed as a way of losing weight (to find further information, carry out an online search using 'catabolic diet' as the search words), but the claims require further investigation.
Until we know more about the interesting possibility of foods that stimulate metabolism, the best alternative option is exercise.
References
Gardner, M. (1985) Production of pharmacologically active peptides from food in the gut. In: J. Hunter and V. Alun Jones, eds: Food and the gut. London: Bailliere Tindall.
Wadley, G. (1994) A review of exorphin research. Australasian Society for Human Biology News, 6(1), 6-8 (July).

What would cause a person to experience a strong sensation of smelling ammonia? ALWAYS occurs in association with menses - usually for the first couple of days. (I have also had two occasions of experiencing classic migraine visual auras. Could this be related?)
There appear to be two possibilities here - either your sensitivity to the smell of ammonia is changing during the menstrual cycle, or there are indeed changes in the production of ammonia during your cycle.
With regard to the first possibility, there is evidence that olfactory perception can change during the menstrual cycle. Some odours are perceived as more complex or novel during the ovulatory period and are processed more rapidly at that time compared with the follicular phase (Pause et al, 1996). However, the change in perception is found only with some types of odour (Mair et al, 1978; Hummel et al, 1991), and we have not been able to find any reported evidence of an enhanced awareness of the ammonia smell during menstruation.
Looking at the second possibility - a change in ammonia production during the menstrual cycle - it appears that in normal circumstances the menstrual cycle has little effect on the patterns of metabolism of nitrogenous waste materials such as ammonia (Garrel et al, 1985; McClelland and Jackson, 1996), and that factors such as taking the contraceptive pill or the amount of protein in the diet have a greater effect. On the other hand, there have been examples of people who experienced raised levels of ammonia in their blood from time to time as a result of errors in the way they metabolised nitrogenous wastes (Grody et al, 1994). It was noted that this problem became more marked after puberty with the onset of menstrual cycles, and that treatment with ovarian steroids was effective.
You mentioned that on two occasions you experienced migraine visual auras in association with the increased sensation of ammonia. It is interesting that several authors have suggested that increased serum ammonia levels may initiate migraine episodes. This possibility was first put forward by Russell (1973), who studied a single family with a high incidence of migraine. However, not everyone agrees with these findings - de Bruijn, Bruyn, and Klawans (1976) did not find any significant changes in ammonia levels during migraine attacks in the people they studied, so the evidence is not clear-cut.
We are not in a position to offer a diagnosis in your case, but if the symptoms you describe are causing anxiety or distress then we recommend that you visit your doctor for advice.
References
de Bruijn, J.G., Bruyn, G.W., and Klawans, H.L. Jr. (1976) Further observation on the possible relationship between migraine and serum ammonia levels. Clinical Neurology and Neurosurgery, 79(2), 151-155.
Garrel, D.R., Welsch, C., Arnaud, M.J., and Tourniaire, J. (1985) Relationship of the menstrual cycle and thyroid hormones to whole-body protein turnover in women. Human Nutrition and Clinical Nutrition, 39(1), 29-37 (Jan).
Grody, W.W., Chang, R.J., Panagiotis, N.M., Matz, D., and Cederbaum, S.D. (1994) Menstrual cycle and gonadal steroid effects on symptomatic hyperammonaemia of urea-cycle-based and idiopathic aetiologies. Journal of Inherited Metabolic Disorders, 17(5), 566-574.
Hummel, T., Gollisch, R., Wildt, G., and Kobal, G. (1991) Changes in olfactory perception during the menstrual cycle. Experientia, 47(7), 712-715 (Jul 15).
Mair, R.G., Bouffard, J.A., Engen, T., and Morton, T.H. (1978) Olfactory sensitivity during the menstrual cycle. Sensory Processes, 2(2),90-98 (Jun).
McClelland, I.S., and Jackson, A.A. (1996) Urea kinetics in healthy young women: minimal effect of stage of menstrual cycle, contraceptive pill and protein intake. British Journal of Nutrition, 76(2), 199-209 (Aug).
Pause, B.M., Sojka, B., Krauel, K., Fehm-Wolfsdorf, G., and Ferstl, R. (1996) Olfactory information processing during the course of the menstrual cycle. Biological Psychology, 44(1), 31-54 (Sep 27).
Russell, A. (1973) The implications of hyperammonemia in rare and common disorders, including migraine. Mt Sinai Journal of Medicine, 40(5), 609-630 (Sep-Oct).

Why does the blood leaving the muscles contain more carbon dioxide than the blood entering the muscles?
Muscles need energy to do their work, and generally they obtain energy by breaking down molecules of glucose. Glucose is a sugar that can be obtained from food and can also be created from other chemicals in the body. Glucose contains chemical energy that is useful to cells, and thus is rather like a fuel. In order to obtain the energy from glucose, the muscle cells need oxygen to help them break down the glucose molecules, and the oxygen is brought to them by the red blood cells. When glucose is broken down in the presence of oxygen, it releases energy for use by the cells and at the same time several additional products are formed. These are: carbon dioxide, water and heat.
Carbon dioxide is toxic to cells if it stays around, so it is carried away by the blood and removed from the body by being passed into the air we breathe out. The water is not a problem, since the body contains a lot of water and the kidneys are able to keep the amount of water in balance so that there is not too much or too little. The heat produced in active muscles helps to keep the body warm, but during exercise more heat is produced than is needed and the body finds ways to get rid of the heat more quickly, for example by sweating. Otherwise the body temperature would rise dramatically every time we exercise, and that would be harmful to the cells of the body. Usually, the body temperature rises only a degree or two during exercise.
The process by which muscles obtain energy from glucose in the presence of oxygen is called aerobic metabolism. In certain types of exercise, as for example in sprinting or weight-lifting, the muscle cells can turn briefly to another type of energy production that does not require oxygen at that time. A waste product called lactic acid is formed, and when this accumulates it will stop the muscles from continuing to work until it is removed. This special type of energy production is called anaerobic metabolism, and can only be used for short spurts of intense activity. When the lactic acid is broken down later, oxygen is again required, and carbon dioxide is produced as in aerobic metabolism.

How much energy should an adult intake per day?
This will depend on several factors. Assuming that the person wants to remain at the same weight, the energy taken in should be equal to the amount of energy used during the day. The amount of energy used will depend on how much is needed to keep all the normal body functions ticking over (the basal metabolic rate), plus additional factors such as level of exercise and ambient temperature. To estimate your basal metabolic rate, multiply your weight in kilograms by 0.9 (or by a factor of 1 for a male). So, if you weigh 70 kilograms, your basal metabolic rate is about 63 kilocalories per hour. That means that over 24 hours you would need 63 x 24 = 1512 kilocalories just to keep everything functioning normally. You would then need to add enough energy for all the other activities of daily life such as walking, climbing stairs, studying, shopping, exercising and so on. Depending on your level of activity, your daily requirement may be 2000, 2500 kilocalories or some other figure - there is not a single fixed answer to your question.

About how many calories a day does a newborn need?? Choices are: 40 calories/kg per day, 60 calories/kg per day, 120 calories/kg per day, 240 calories/kg per day.
The exact energy needs of a particular newborn baby depend upon several factors, including the ratio of the baby's surface area to its weight (how much insulating fat and heat-producing brown fat that it has), the stage of development it reached before birth (gestational age), the route by which it is being fed (by mouth or parenterally), growth rate, activity, and the temperature of the surroundings. Babies receiving parenteral nutrition need less energy for adequate growth - they do not need to expend energy absorbing the provided nutrients, and they have no faecal losses. Babies who are ill or experiencing stressful situations have higher energy requirements than normal babies.
The figures in standard text books and a sample of the medical literature range from approximately 60 kilocalories per kilogram per day to approximately 120 kilocalories per kilogram per day, covering the middle two options in your question. To make sense of this wide range, it helps to take into account the following variables:
| | |
| --- | --- |
| | the baby's resting expenditure of energy - this is the basal metabolic rate, or the amount of energy required to keep all the bodily functions of the baby just 'ticking over'. Even for a small newborn, this will be approximately 40 kilocalories/kg/d |
| | if we allow for minimal activity by the baby, we need to add say 5 kilocalories/kg/d |
| | in temperate climates, the baby might experience occasional cold stress, as for example when it is being dressed, changed, or washed, and this will add say 10 kilocalories/kg/d |
| | the baby will need additional energy for growth, on top of the resting energy requirement - this can add another 40 or so kilocalories/kg/d |
| | therefore, an average newborn baby will need in the region of 100 kilocalories/kg/d. |
So, given the choices in the question, 120 kilocalories/kg/day would appear to be the best option.